Issue 20 | March 2013


IN THIS ISSUE
Security Application Story

Technical Corner

Product Spotlight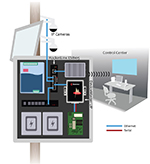 Energy Substation Surveillance & Power Monitoring
With rising value of scrap metal and struggling economies throughout the world, theft of copper and other materials is on the rise. Surveillance is increasing at energy substations, power plants and other critical infrastructure locations in attempt to deter thieves from cashing in stollen copper wiring, aluminum doors and other materials at scrap yards or metal melting facilities.
Comtrol and a few other companies have collaborated to create a solar-powered security system to monitor critical
infrastructure around the world.

Rebooting non-PoE devices using Comtrol's RocketLinx switches
Have you ever wanted the ability to cycle the power to an IP camera (or any other device) remotely but couldn't? … Either because it is not a PoE powered device in the first place, or because it is a PoE++ camera that consumes 60+ watts of power and has its own custom power injector?
If that is the case, you may find this little trick of great interest for your next camera deployment where you may need to hang one of those monster PoE++ cameras on a pole in a remote location, or work on a city-wide surveillance project – and getting someone up on a ladder to manually cycle the power is no small feat.


RocketLinx ES8105 Industrial Ethernet Switch
Unmanaged industrial Ethernet switch with five Fast Ethernet ports, an aluminum metal case, DIN rail or wall mount installation, 3.2Gbps switch fabric, and an alarm relay output.

Learn More >>

DeviceMaster UP 1-Port Industrial Ethernet Gateway
1-Port industrial Ethernet serial device server with DB9 connections providing PLC connectivity to standard serial devices with protocol support for EtherNet/IP™, PROFINET, Modbus/TCP, Modbus RTU/ASCII, and TCP/IP. Learn More >>




Forward this message to a friend